China's 144-hour visa-free transit policy is carried out in Guangdong, Shanghai, Jiangsu, Zhejiang, Liaoning, Chengdu, Xi'an, Chongqing, Xiamen, Qingdao, Wuhan, and Kunming as well as Beijing, Tianjin and Hebei, to facilitate international travelers. It allows passengers from 53 countries or regions to transit in Guangdong Province, Shanghai-Jiangsu-Zhejiang region, Beijing-Tianjin-Hebei region, Liaoning Province, Sichuan Province or Chinese cities of Xi'an, Chongqing, Xiamen, Qingdao, Wuhan, and Kunming for no more than 144 hours (6 days) without holding a visa.
Who can enjoy China 144-hour visa exemption? - List of 53 Qualified Countries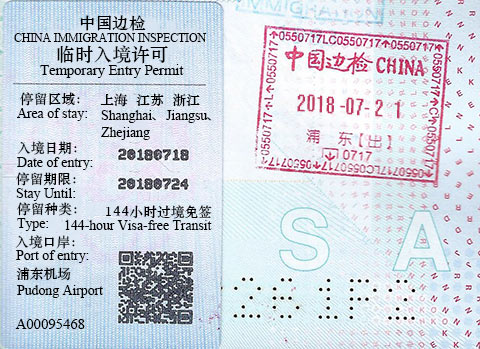 24 Schengen Agreement Countries: Austria, Belgium, Czech Republic, Denmark, Estonia, Finland, France, Germany, Greece, Hungary, Iceland, Italy, Latvia, Lithuania, Luxembourg, Malta, Netherlands, Poland, Portugal, Slovakia, Slovenia, Spain, Sweden, Switzerland

15 Other European Countries: Russia, the United Kingdom, Ireland, Cyprus, Bulgaria, Romania, Ukraine, Serbia, Croatia, Bosnia-Herzegovina, Montenegro, Macedonia (FYROM), Albania, Belarus, Monaco

6 American Countries: the United States, Canada, Brazil, Mexico, Argentina, Chile

2 Oceania Countries: Australia, New Zealand

6 Asian Countries: Korea, Japan, Singapore, Brunei, United Arab Emirates, Qatar

* The same as countries enjoying 72-Hour Visa-Free Transit.

What is an eligible transit route?A → B: one of the allowed areas in Mainland China → C
A and C should be different countries or regions out of Mainland China.
* Hong Kong, Macau and Taiwan can be the Destination A or C, so the route "UK-Shanghai-Hong Kong" is acceptable as the typical route "US-Hangzhou-Japan".

B refers to only one of the following areas in China, and you cannot have a cross-area visa-free tour among them:
1. Guangdong
2. Shanghai, Jiangsu, and Zhejiang
3. Beijing, Tianjin, and Hebei
4. Liaoning
5. Chengdu
6. Xiamen
7. Qingdao
8. Wuhan
9. Kunming
10. Xi'an
11. Chongqing

Key point: The international flights flying in and out of China – from A to B and from B to C – should be non-stop, without a stopover anywhere in Mainland China.

Eg:
× UK – Guangzhou – Shanghai - Hong Kong
× US – Beijing – Shanghai - France
Note: Both of Beijing and Shanghai are eligible for this policy, but you can only have one between the original country and the third country.

√ US – Dalian - South Korea
√ Singapore – Shanghai – Hangzhou - Malaysia
Note: Shanghai and Hangzhou (provincial capital of Zhejiang) are within one visa-free area.

Business Conferences and Trade Fairs
6 days are enough to attend various trade fairs or forums in Beijing, Shanghai, or the Canton Fair in Guangzhou, conduct market research, review suppliers' factories, or sign contracts with partners.

---
Further Contact Information
Shanghai
General Station of Immigration Inspection
0086-21-51105100
Nanjing
Lukou Airport
0086-25-968890
Hangzhou
Xiaoshan Airport
0086-571-96299
Beijing
Capital International Airport Immigration Inspection
0086-10-56095400
West Railway Station
0086-10-56092165
Tianjin
Binhai International Airport
0086-22-24905908
International Cruise Home Port
0086-22-25605128
Shijiazhuang
Zhengding International Airport
0086-311-88027961
Qinhuangdao
Qinhuangdao Beidaihe International Airport
0335-7520000
Dalian
Zhoushuizi International Airport
0086-411-96600
Shenyang
Taoxian International Airport
0086-24-96833
Guangzhou
Baiyun Airport
0086-20-36066622
Shenzhen
Bao'an Airport
0086-755-82327700
Jieyang
Chaoshan Airport
0086-663-3828770
Chengdu
Shuangliu Airport
0086-28-85205555
Xiamen
Gaoqi Airport
0086-592-96363
Qingdao
Liuting Airport
0086-532-96567
Wuhan
Tianhe Airport
0086-27-96577
Kunming
Changshui Airport
0086-871-96566
Xi'an
Xianyang Airport
0086-29-96788
Chongqing
Jiangbei Airport
0086-23-966666
Note:
Note that if 1) you are not able to show any of the required documents listed above, 2) or your route does not qualify, 3) or you have overstayed in a country or been refused in visa application before, you may face the possibility of being refused at the 144 visa-free counter. For fear of inconvenience caused by such case, please make sure that you are eligible or apply for a regular visa in advance.